Cyberattacks are skyrocketing and the smaller the company the bigger the risk. Effective protection is vital, especially for small and medium-sized businesses (SMEs) that don't have appropriate resources and expertise. And as threats are increasing, so is the market of security solutions. Wouldn't it be great to find all of them in one place and purchase services tailored to your specific needs in a few simple steps? Thanks to the FORTIKA project, you can!
October is dedicated to raising awareness about the importance of Cyber Security and in XLAB, we do our part - we have been actively participating in numerous security and privacy-related research projects, aiming to make the world better with advanced technology. And FORTIKA is one of them.
For 36 months, 16 partners innovated towards bigger cyber security for SMEs. Together we developed new technologies, minimizing the exposure of SMEs to cybersecurity risks and threats while relieving them from all efforts of identifying, acquiring, and using the appropriate cyber security solutions. And you can find them all in a unified marketplace.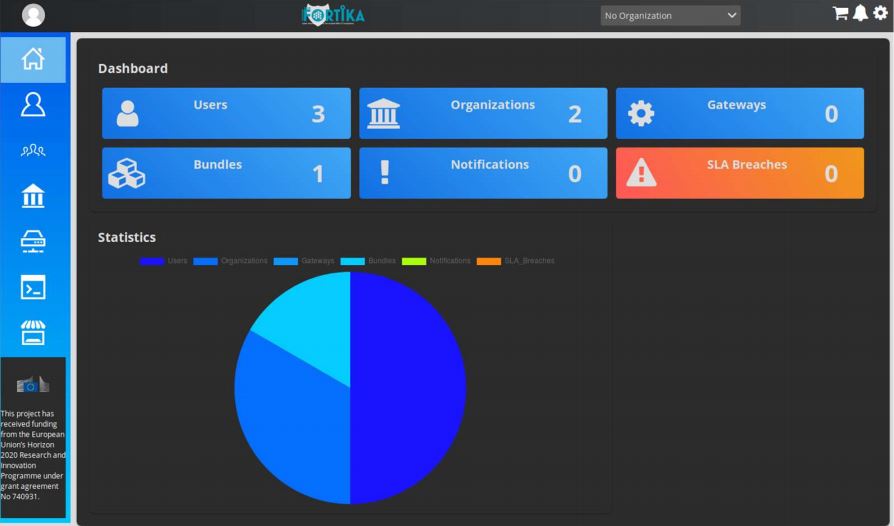 FORTIKA Solution
The FORTIKA solution is composed of:
an online Marketplace, where SMEs can find collections of cyber security services (also known as bundles), best suited for their needs, or publish their own solutions,
an FPGA powered device known as the FORTIKA Gateway that SMEs install on-premise and serves as the runtime host for the cyber security services,
a cloud-based environment for supporting services, also known as bundle cloud counterparts.
To take full advantage of the FPGA-powered platform, members of the consortium also developed custom cyber security solutions to fully utilize the capabilities of the hardware. These solutions include, but are not limited to, IDS, firewall, SIEM, threat detection and mitigation engine, and a Visual Analytics Module that enabled SMEs to get a real-time view of the security status of their infrastructure.
  FORTIKA Marketplace
So, not only have FORTIKA partners rolled out a new generation of security products that can be tailored effortlessly to the evolving needs of each individual enterprise and can quickly adapt to the changing cyber threat landscape, we also developed a platform to find, purchase and deploy these customizable solutions, calledFORTIKA Marketplace. And what's more, the B2B marketplace also includes security products offered by reviewed third party developers and vendors. So it's not just a project promotion platform, but an open platform where businesses can easily find the best security solution for them.
Services residing on the marketplace can be deployed on dedicated hardware, called the FORTIKA Gateway. And in addition, FORTIKA security bundles help assess risk through analysis and automatically implement appropriate cyber security countermeasures, freeing SMEs to focus on their main mission.
To sum up the benefits of the FORTIKA Marketplace:
end-users can search for suitable solutions from a wide range of providers and purchase adaptable services, dynamically adjusted to the enterprises' changing needs
developers can publish their services
services running on the dedicated hardware can be managed and monitored from the web-based user interface
automatic risk assessment and implementation of appropriate countermeasures
security by design hybrid approach that integrates hardware and software with business needs and behavioral patterns
XLAB's role
XLAB's role within the project was to develop the FORTIKA Marketplace by integrating technologies related to lightweight service orchestration and deployed the services on top of the existing hybrid cloud, hosted at XLAB. In the planning stages of the project, XLAB acted as the leader of the "Use Cases and Application Scenarios" task, gathering requirements, and creating Use Cases to ensure that all the basics were covered.
The final review of the FORTIKA project took place on the 11th of June 2020. It marked the successful conclusion of the 3-year project.
Cooperation and exchange of knowledge not only between the members of the XLAB security team, but also with partners who strive for the same ultimate goal, have resulted in effective cooperation and, ultimately, in the successful completion of the FORTIKA project.