This post was originally published on the ISL Online blog.

Experts point out the economic trend of people leaving their jobs on a massive scale, especially since the onset of pandemics, a phenomenon known as the Great Resignation. After a long period of working from home, many people have decided to rethink their priorities in life.
The pandemics have shown that the companies that have focused on hiring people who are highly reliable, committed, and performance-oriented will find the transition to flexible work much easier.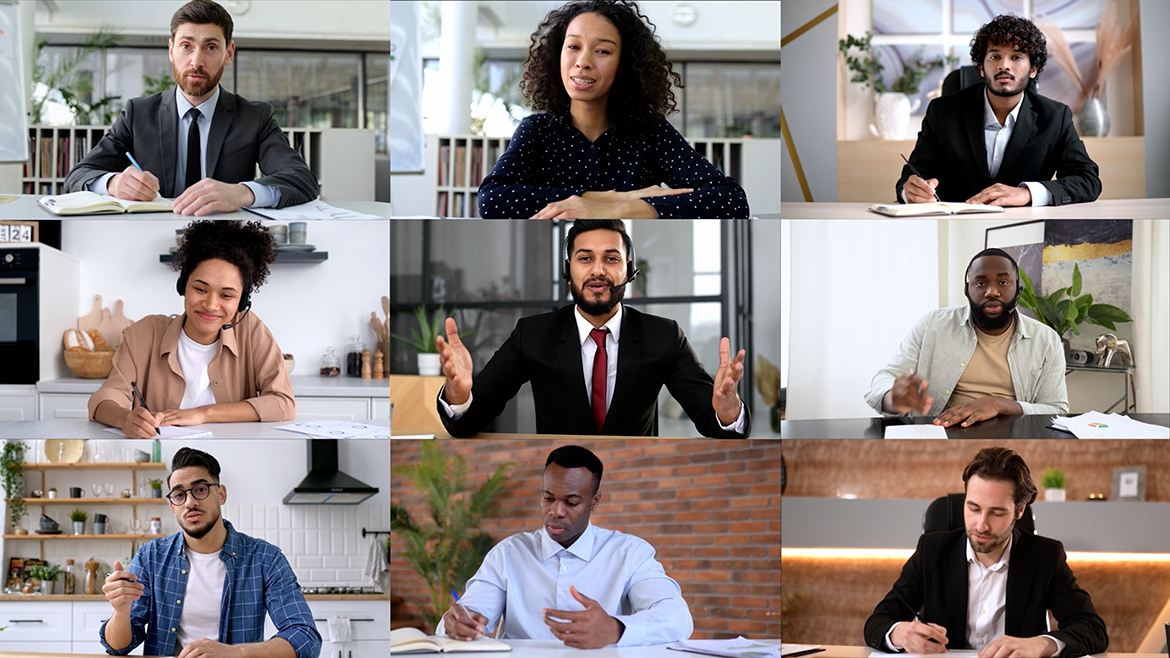 It seems that nowadays this revolution continues at a fairly steady pace since one in five workers worldwide is planning to quit his/her job this year. That was the key finding of PwC's Global Workforce Hopes and Fears Survey 2022, which questioned more than 52,000 workers in 44 countries. This survey was published in March 2022, and is considered one of the most important to date regarding this topic.
Just a good salary is not enough anymore
The survey indicates that the salary, as anticipated, is the key factor for people who want to change their job, among which 71% state salary as the key reason. Besides that, this factor is stronger than ever due to the historical inflation that we are witnessing these days. But the money itself is not enough to keep the employees in the company. The PwC study reveals that the job should also be rewarding and allow people to be themselves. Together with the salary, these are the most important factors contributing to the consideration to switch jobs.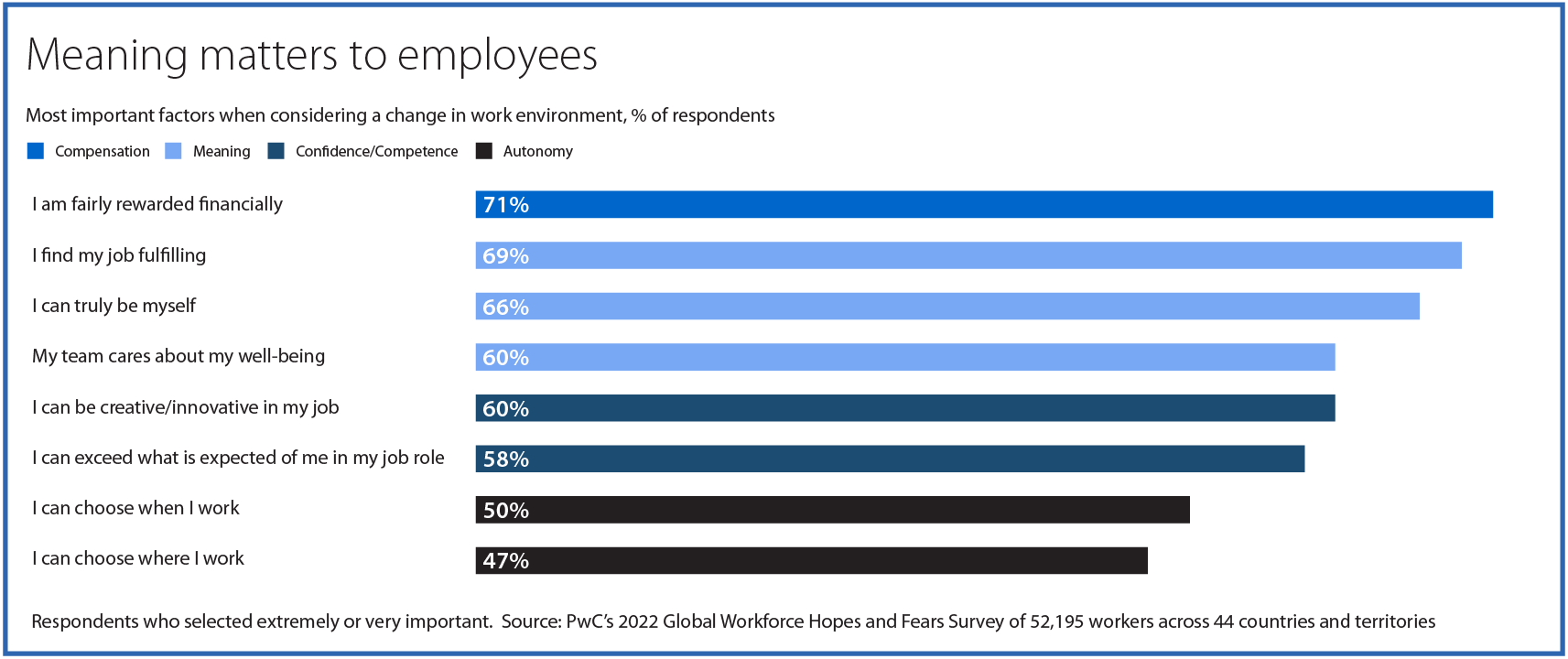 Flexibility as the workhorse
Workplace flexibility is becoming increasingly attractive to employees. However, there seems to be a gap between what employees want and what they think their employers will expect in the future. 26% of the respondents who could work remotely at the time of the survey said they would prefer full-time teleworking, but only 18% of them said it was likely that their employer would accept this work model. On the other hand, only 11% of the respondents who work remotely would return to full-time office work, while 18% believe their employer is very likely to require it.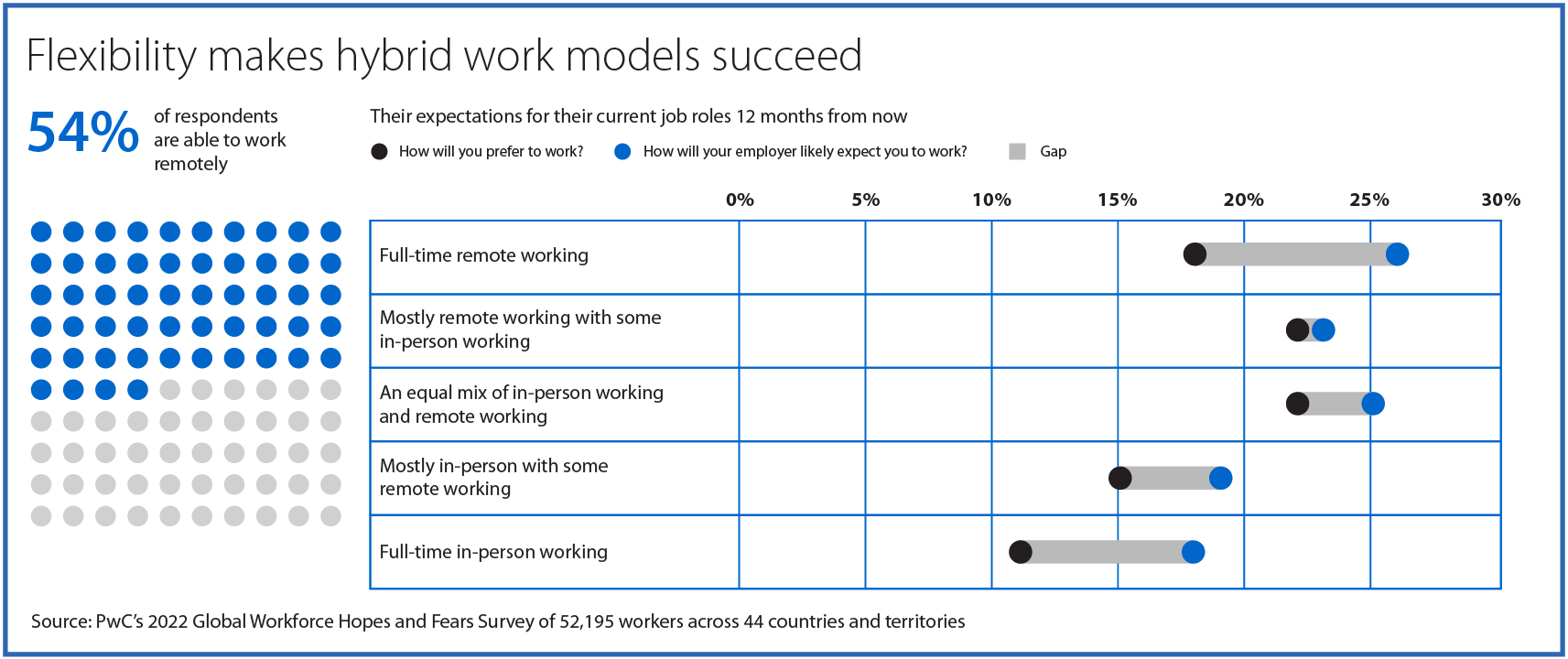 Of course, a certain percentage of working force cannot work remotely. This group, which represents about 45% of the respondents, expressed much less satisfaction with their job than those who work in hybrid or remote work environments.
Specialization is the synonym of work satisfaction
Workers with specialized training are in great demand. And they know it. That's why they are much more confident in asking for a raise, for example, 41% versus 29% of workers without that education. They also ask for a promotion, 37% compared to 21% of those who have no training. According to this study, all of these results will increase over the next 12 months.
It seems that specialization also leads to greater job satisfaction. According to PwC, these employees are more likely to recommend the company where they work: 45% versus 29% of employees without specialization.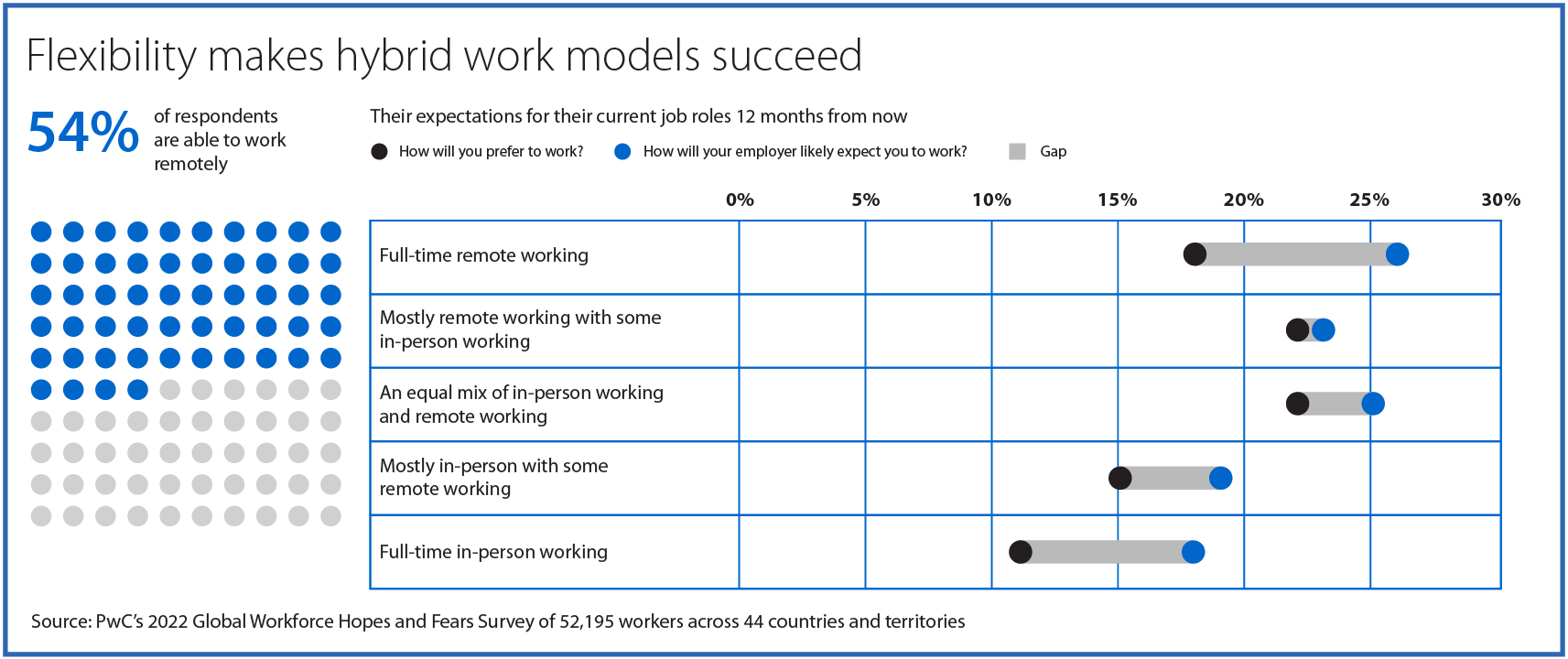 The employers should change their mentality
The survey concludes that the companies should adapt the strategies of the work force to the unique necessities of the workers.
Everything has changed, but it is not known whether for the better or for the worse. The fact is that the requirements are on the side of the workers more than ever.
Certainly, this seems to be a topsy-turvy world for many people. But Ms. Isabell Welpe of the Technical University of Munich also made this point last year at the World Economic Forum. She said that employers should change their approach to attracting and retaining employees. The new normal, as she describes it, brings with it more opportunities for asynchronous working, which should enable a win-win situation for employees and companies alike to avoid situations like the Great Resignation.
Avoiding this major resignation, however, requires a corporate commitment. The pandemics have shown that the companies that have focused on hiring people who are highly reliable, committed, and performance-oriented will find the transition to flexible work much easier.
The basic strategies for avoiding the escape of workers
We would like to present some strategies that companies use to avoid the spread of the resignation of workers. To avoid such spread, we need vaccines, such as the following:
Salary vaccine: Joe Biden said that "the companies that complain about the shortage of workers should just pay more." On the other hand, Steve Jobs said that "the only way to do brilliant work is to love what you do." The best thing to do is to do both, find a way to reward the efforts and talent of workers as well as pay them fairly in the face of high inflation.
Flexibility vaccine: Employees increasingly prefer to trade part of their salary for more flexibility. For example, to work for a company that allows remote work and a good work-life balance. Flexibility is always looking for ways to improve workers' lives.
Professional development vaccine: it is becoming more and more common to include education in an employee's career plan, with a company paying an employee for a master's degree, various educational courses, etc. In this way, companies increase the skills that an employee needs in the company and at the same time help him/her to develop personally.
Good working environment vaccine: good workers escape toxic environments. Nothing is more frustrating than getting up knowing you are headed to a "warzone", where a slightest inattention can have someone waiting to knock you down.
Vaccine of a Good Boss: they say that workers change their boss, not the company. The boss is responsible for managing all the vaccines mentioned so far. The boss is like the doctor who should immunize employees against any job offer from the competition.
The vaccine of the efficient Help Desk
Last but not least – the vaccine of the efficient help desk. Workers are focused more on achieving certain goals, and less on the number of hours they spend in an office. Therefore, we should be able to maximize the productivity of help desk employees. That means that employees can work most of the time without interruptions. And when an incident or an error related to the work equipment, etc. is reported, the help desk can fix that as quickly as possible. For this vaccine to be efficient, the usefulness of the remote support should be strongly emphasized.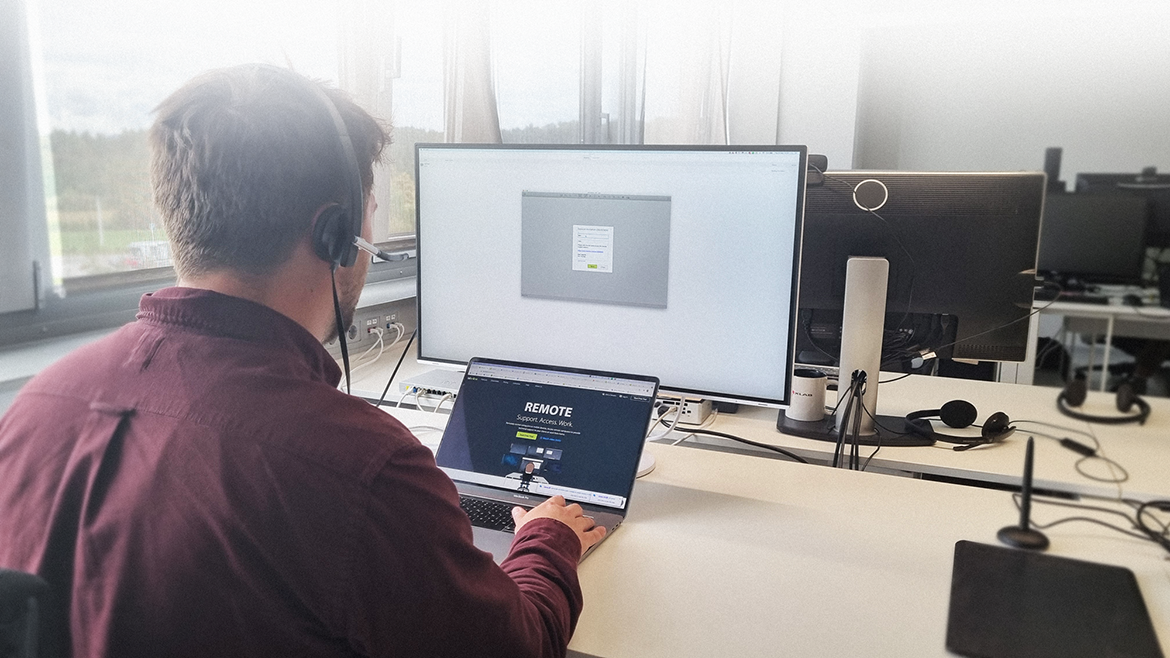 You are for sure familiar with the remote support service. Remote support helps help desk analysts to connect remotely to the user's device and resolve incidents from the comfort of their workstation without having to go to another location. It also helps employees to ensure continuity of their tasks and be productive. Therefore, choosing remote support is a very important decision for our company and our customers.
At ISL Online, we have more than 20 years of experience in the remote support industry and also work with some large global companies. Therefore, we can see that everything is changing. The challenge to the customers is not just finding an efficient multi-platform remote support tool for their support departments. The challenge is also to facilitate, support and ease the work of their help desk staff so that they can complete their tasks in the new work models without interruptions. In addition, remote access to employees' computers and devices must be as secure as possible, regardless of the location and network connection to which they are connected. At ISL Online we perform regular penetration tests to ensure the highest security standards. High demanding customers (such as financial institutions) can also obtain a dedicated private cloud located at their premises.
These are very interesting topics. We would love to hear your experiences and opinions. Contact us at [email protected] or just write a comment below.