From 16th to 20th March, ISL Online will be showcasing its remote support software at CeBIT, on a spectacular Samsung stand (C30) located in Hall 2. ISL Online, which last year established a strong partnership with the South Korean giant, will be pointing out its latest ISL Light application. The application allows accessing and controlling Samsung mobile devices remotely while guaranteeing maximum security.

The collaboration powers efficient mobile support
A company like Samsung doesn't invite just anybody to co-exhibit at its stand at one of the most important IT events of the year. Due to outstanding collaboration efforts, ISL Online earned its place in the 1,750 square metre large exhibition area, designed by renowned architects each year.
We wanted to offer more to our customers and enable full remote control of mobile devices from another smartphone, tablet or computer. That is why in 2013 we made contact with Samsung Electronics. The outcome of this collaboration was a premium version of ISL Light remote desktop application, which included the above-mentioned function. Soon many users installed the application onto their mobile devices and ISL Online was certified as a silver partner in Samsung Enterprise Alliance Programme (SEAP)," explains Mitja Vavpotič, responsible for integrations and international partnership at ISL Online.
ISL Online's efforts and investment in the fast development in this area has continued, so in early February 2015 ISL Online team received an invitation from the South Korean office to present their software solutions at this year's CeBIT. Only three SEAP partners were selected, among them ISL Online, a pioneer of the remote desktop technology.
"The successful partnership with Samsung brings us faster technical support from their side, easier access to their developers and latest Samsung devices, joint marketing activities, presence in Samsung's online marketplace, and a possibility of co-exhibiting at major international trade fairs. However, our ultimate goal is to offer our clients continuous improvement in the field of ISL Online performance and user experience," adds Mr Vavpotič.
Control Samsung Galaxy S6 remotely
ISL Light app, which is available on Google Play, also works on Samsung's latest smartphone, Galaxy S6. This means a user can access Samsung Galaxy S6 from another mobile device or computer and control it remotely, troubleshoot technical issues, change settings or install new applications. As Samsung's partner, ISL Online was among the first to receive their new flagship device and test the ISL Light application successfully.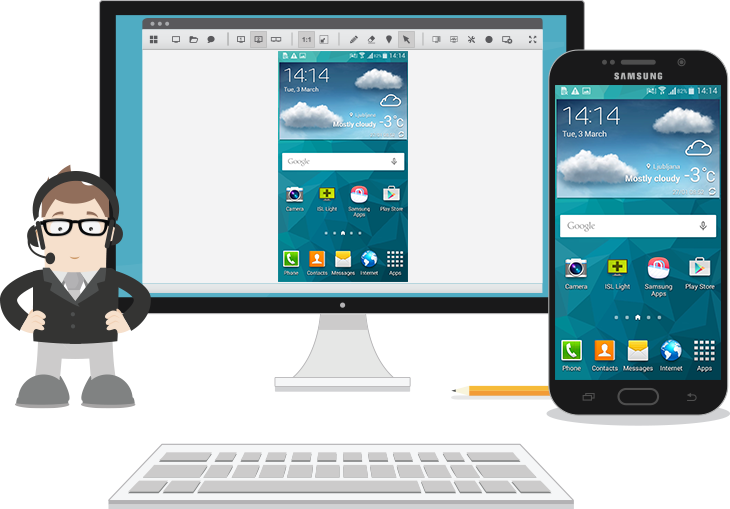 Full remote control and real-time screen sharing are currently available on Samsung devices with Android OS 4.2.2 or later versions, and all rooted Android mobile devices. Full remote control function is not supported on other mobile devices for now, however, a technician using ISL Light can see the screen of any Android device, iPhone and iPad through automated real-time screenshot sharing.
The reverse process, connecting to and controlling a remote computer with ISL Light, is possible mainly from all smartphones regardless of manufacturer.
Visit ISL Online at CeBIT
ISL Online cordially invites all their customers, business partners, journalists and all others who are interested in information technology and development trends in the remote support field, to visit them at the CeBIT from 16th to 20th March 2015. If you would like to arrange for a brief meeting with an ISL Online representative, you have the opportunity to book a meeting on their website to discuss how the ISL Light application can contribute to more effective technical support or check the possibilities of integrating ISL Online into your existing software. Visitors will have the possibility of trying ISL Light on Samsung Galaxy S6 and other devices.
Samsung has published case studies of their most valuable partners, including an ISL Online success story, which shortly explains how a regional ERP provider introduced ISL Online's solution to offer mobile remote support to more than 36,000 of their own clients and how they benefited from single-click support with live chat and remote desktop capabilities bundled into one powerful tool.