ISL Online, a pioneer company in the remote desktop industry, has announced the release of ISL AlwaysOn 2.2. The latest version of business remote access software, optimised for Windows 8.1, brings high-speed start and connects to a remote computer in only 7 seconds.
ISL AlwaysOn 2.2, available on ISL Online's website, allows instant access and control of an unlimited number of remote computers. Beside a high-speed start, it comes with a handy new drag and drop window that allows easy file transfer.
High-Speed Remote Access Start
"When taking our products to an ever higher level, one of our main goals is optimising the clients' productivity, so with the latest ISL AlwaysOn we have worked on shortening the connection time," says Jure Pompe, ISL Online's CEO. ISL AlwaysOn 2.2 halves the time needed to connect to a remote computer and start working on it in real-time. A user can now connect to a remote computer in only 7 seconds, which can be seen in a short demo video.
Another improvement is a convenient drag and drop window for file transfer, which allows a user to simply transfer files from a remote computer to a local one. The window can be minimised to get a full view of the remote screen.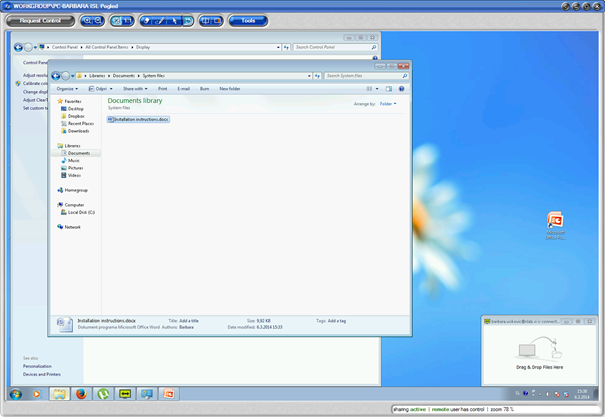 ISL Online SaaS users will get the update automatically, others can download ISL AlwaysOn 2.2 from ISL Online's website .
New Generation of Remote Access Coming up
"Soon we are planning to release a new generation of our remote support and remote access software. Following the latest design trends, our developers are beefing up the graphical interface to provide smoother user experience," says Mr Pompe and adds: "With the fourth generation we will continue to bring down the time needed to connect to a remote computer to a maximum of 5 seconds."
For those who are curious, there is a public beta version of ISL Light 4.0 available and can be downloaded from www.islonline.com.
Remote Access for Secure Professional Use
ISL Online software is designed for small or big organisations requiring high security and reliability of the service when managing their own or their clients' computers. The ISL Online remote access service runs on a vast ISL Online Network, which connects servers from more than 60 data centres worldwide and offers a high-performance service with 99.96% average uptime. ISL Online software, used by banks, governmental organisations and insurance companies, is secured with AES 256 Bit end-to-end military strength encryption.