Fully integrated into the AVG Business remote monitoring and management (RMM) platform, ISL Online remote access software enables AVG's Managed Service Providers (MSPs) to quickly and easily access remote computers, transfer files, record sessions and perform administrative tasks for their clients without switching interfaces.
More than 10,000 AVG channel partners administer a large number of remote managed devices. A reliable and secure remote control tool was their key request before the release of the enhanced AVG Business Managed Workplace 9.2.
Tweet this: Integrating @ISL_Online software into #ManagedWorkplace 9.2 @AVGBusiness provides new #RemoteDesktop tool for their #MSPs
Ljubljana, Slovenia, 14.10.2015. ISL Online, an enterprise remote desktop software provider, recently announced its partnership with AVG® Technologies N.V. (NYSE: AVG), the online security company™ for more than 200 million monthly active users. ISL Online, a pioneer in delivering remote desktop control software, has partnered with AVG Business to integrate ISL Online's premium Remote Control capability into AVG's Managed Workplace 9.2 RMM platform.
"AVG Technologies came to us looking for a reliable remote access and control solution, which would stand up to their rigorous security standards," explains Jure Pompe, CEO at ISL Online.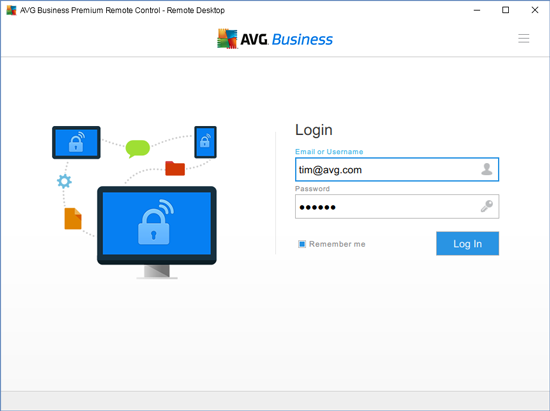 ISL Online and AVG technical teams collaborated on key remote control functionality, resulted in giving AVG's MSPs greater control and visibility, allowing them to resolve issues and deliver support more quickly across all Windows® and Mac OS X® managed devices from a single platform. A short demo video shows how the integrated Premium Remote Control works.
"The ability for my team to quickly understand and resolve issues without the delays of working across different systems, or the expense of purchasing new tools, makes a big difference in delivering fast and professional support," explains Bob Ascherl, Director of Managed Services at Advanced Technology Services and an AVG MSP partner.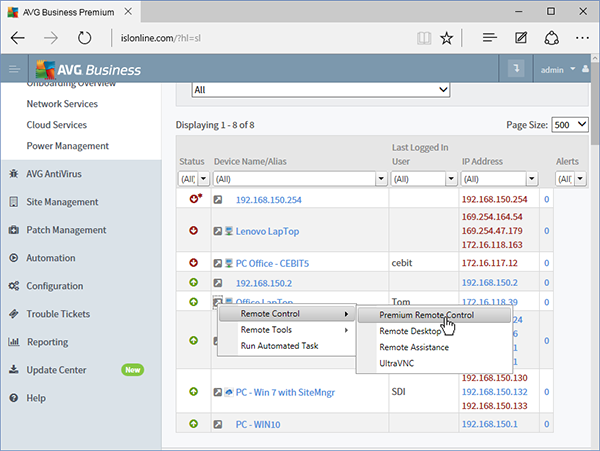 Partners have been providing positive feedback since the release of AVG's enriched RMM platform with the main benefits being reduced time, effort and energy in trying to manage external customers from a help desk and the synergy of having the same look and feel in a single solution.
About ISL Online
ISL Online, one of the pioneers of the remote desktop control industry, provides cloud-based (SaaS) and on-premises (Server License, Private Cloud) remote support, remote access, live chat and web conferencing solutions to over 200,000 businesses across 100 countries. ISL Online solutions enable IT professionals to securely access and control any Windows, Mac or Linux computer, as well as offer ad hoc remote support to mobile device users. ISL Online software is developed by XLAB, a software development company headquartered in Slovenia with offices in the United Kingdom, Switzerland and the USA. Visit ISL Online at www.islonline.com.
About AVG Technologies (NYSE: AVG)
AVG is the online security company providing leading software and services to secure devices, data and people. AVG's award-winning technology is delivered to over 200 million monthly active users worldwide. The AVG Consumer portfolio includes internet security, performance optimization, and personal privacy and identity protection for mobile devices and desktops. The AVG Business portfolio – delivered by managed service providers, VARs and resellers – offers IT administration, control and reporting, integrated security, and mobile device management that simplify and protect businesses. All trademarks are the property of their respective owners www.avg.com
AVG Business sells and markets a comprehensive, integrated set of cloud security and RMM software applications that are designed from the ground up to simplify the lives of IT providers, Managed Service Providers (MSPs), and their small-to-medium sized business customers. For more information about AVG Business, visit http://www.avg.com/us-en/managedworkplace.