This post was originally published on the XLAB Steampunk blog.

This post was originally published on February 7th, 2023. The content has been updated to reflect the latest releases.
In the world of automation, precision, reliability, and collaboration are paramount. Introducing the Steampunk Spotter app. Spotter is a game-changing platform for valuable insights into your Ansible Playbooks, where you'll find all the data needed to optimize and maximize your automation. Let's delve into how the Spotter app can help you optimize automation, spot trends, check public git repositories' quality, and monitor progress, all while fostering efficient collaboration. Addressing pain points and finding potential solutions is much faster, easier, and most importantly – more transparent.
Elevate your automation game with insights
The Steampunk Spotter app isn't just a tool; it's your strategic ally in automation optimization. Whether you're a seasoned playbook developer or a business leader seeking deeper insights, this app is your gateway to invaluable data. Seamlessly integrate it with your workflow via the CLI tool or integrations with GitLab, GitHub, or VS Code; flexibility tailored to your needs.
The Spotter app's functional dashboard provides a holistic view of your scan history, enabling you to track the frequency of playbook executions and identify trends. Spot the most common errors, gather insights, and chart your progress over time. The app empowers you to understand how your team employs Spotter, the outcomes they achieve, and the recurring issues they tackle. It's a goldmine of actionable information for refining your skills and attaining business objectives.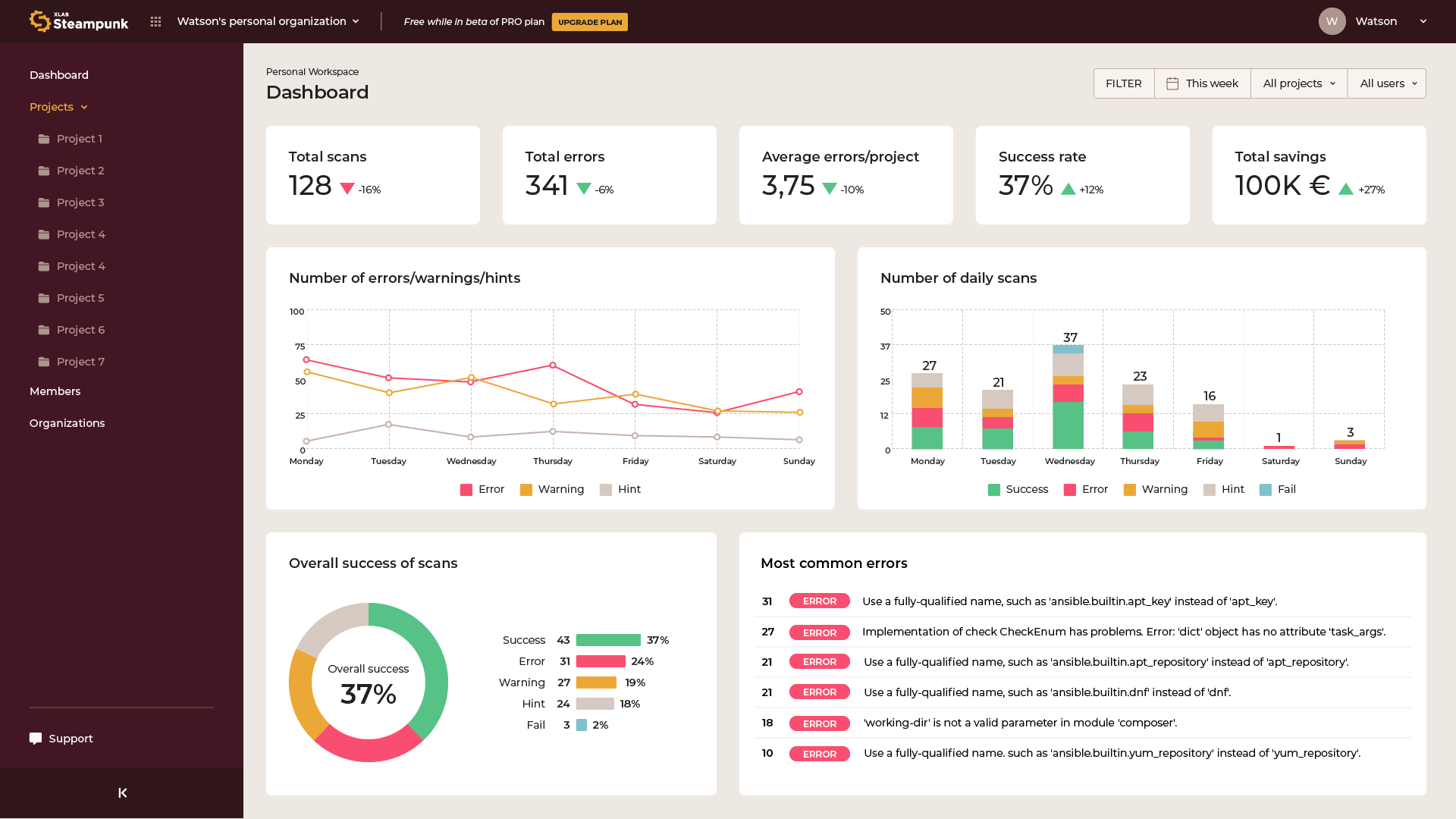 Craft your strategy by reviewing lists encompassing the most common errors, warnings, hints, and rewrites. Swiftly addressing challenges and uncovering potential solutions becomes an effortlessly transparent endeavor. Persistent obstacles are met head-on through troubleshooting and tailored solutions. With a readily accessible list, the hours spent scouring for the root cause are a thing of the past. You'll also see which issues Spotter automatically fixed for you. This gives you a better idea of just how much manual work and time it saved you. Simply log into the Spotter app and dive straight into finding a solution.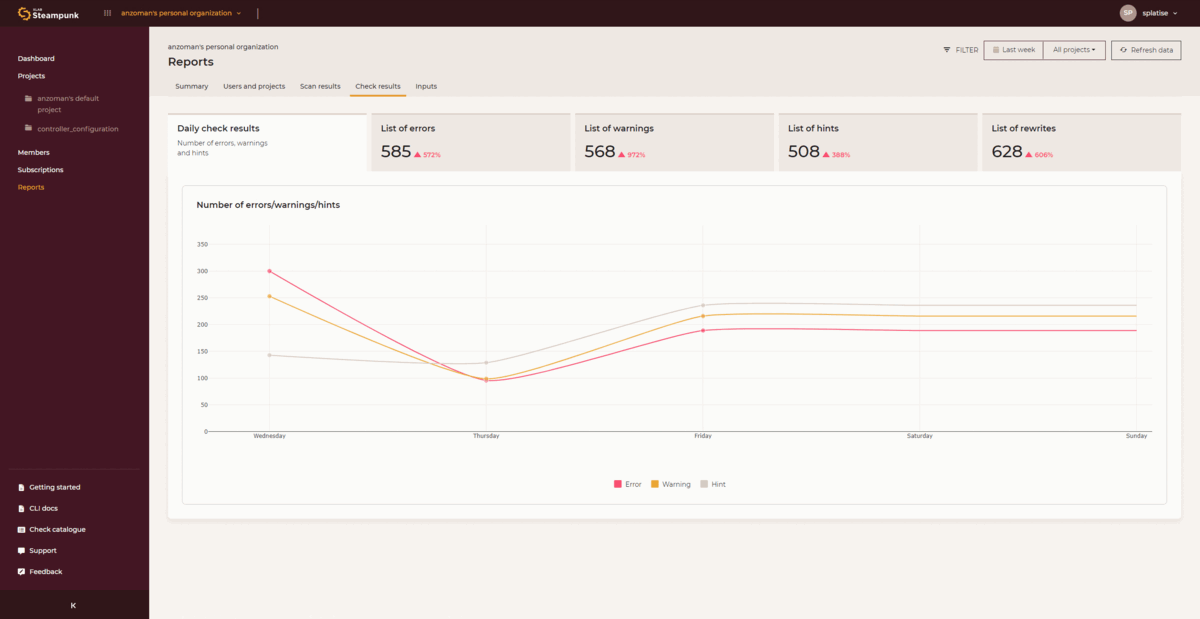 When examining the issues, simply head into the check catalogue and see your error, hint, or warning in more detail, with helpful good and bad examples of playbooks. Harness these insights to streamline your automation processes, ensuring precision and reliability every step of the way.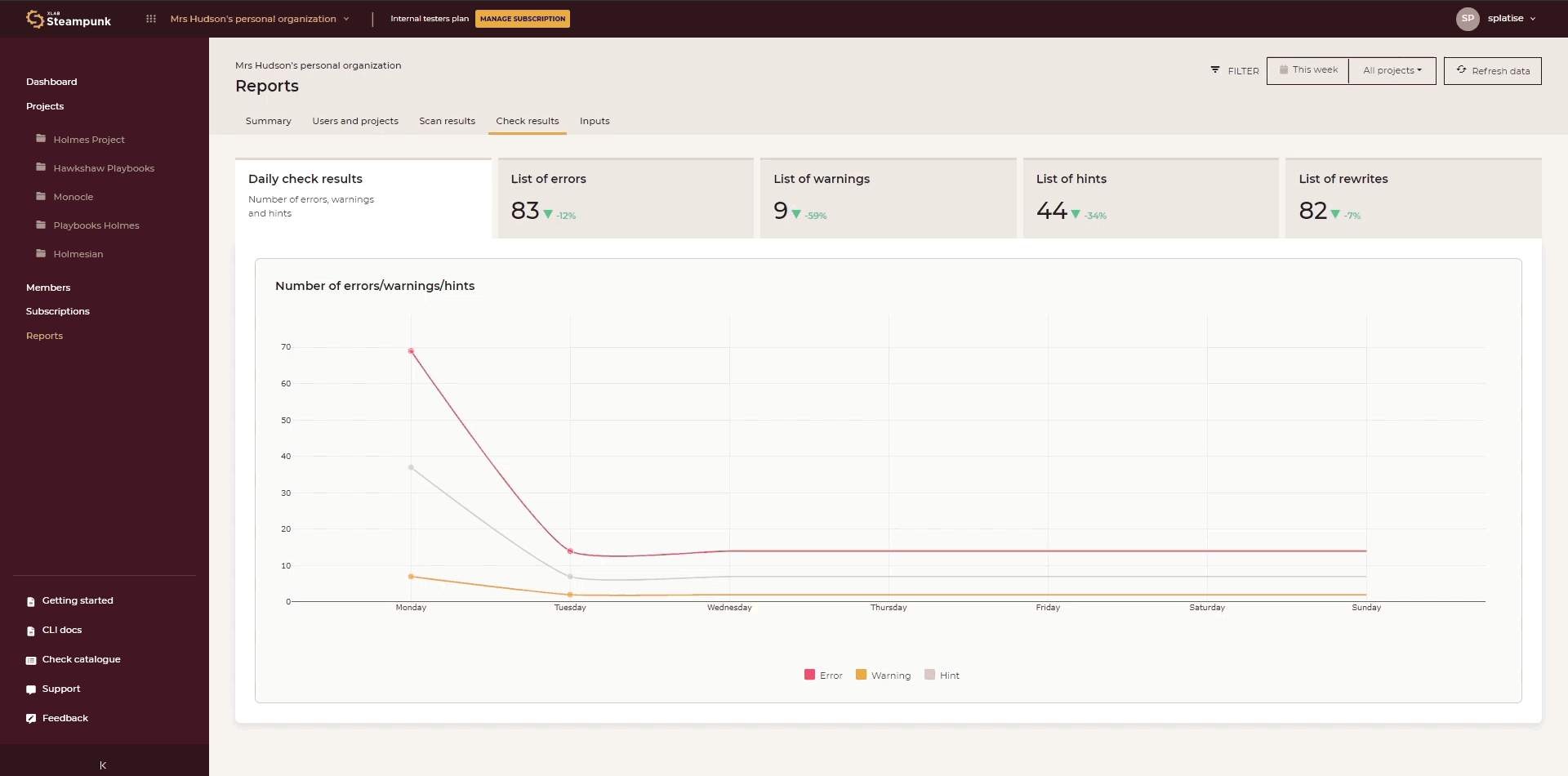 With the Inputs report, you can look over the versions of the collections and modules you use. This can help you move to a narrower set of collections and modules or a single collection or module, which further enhances your efficiency and simplifies transitions between Ansible upgrades.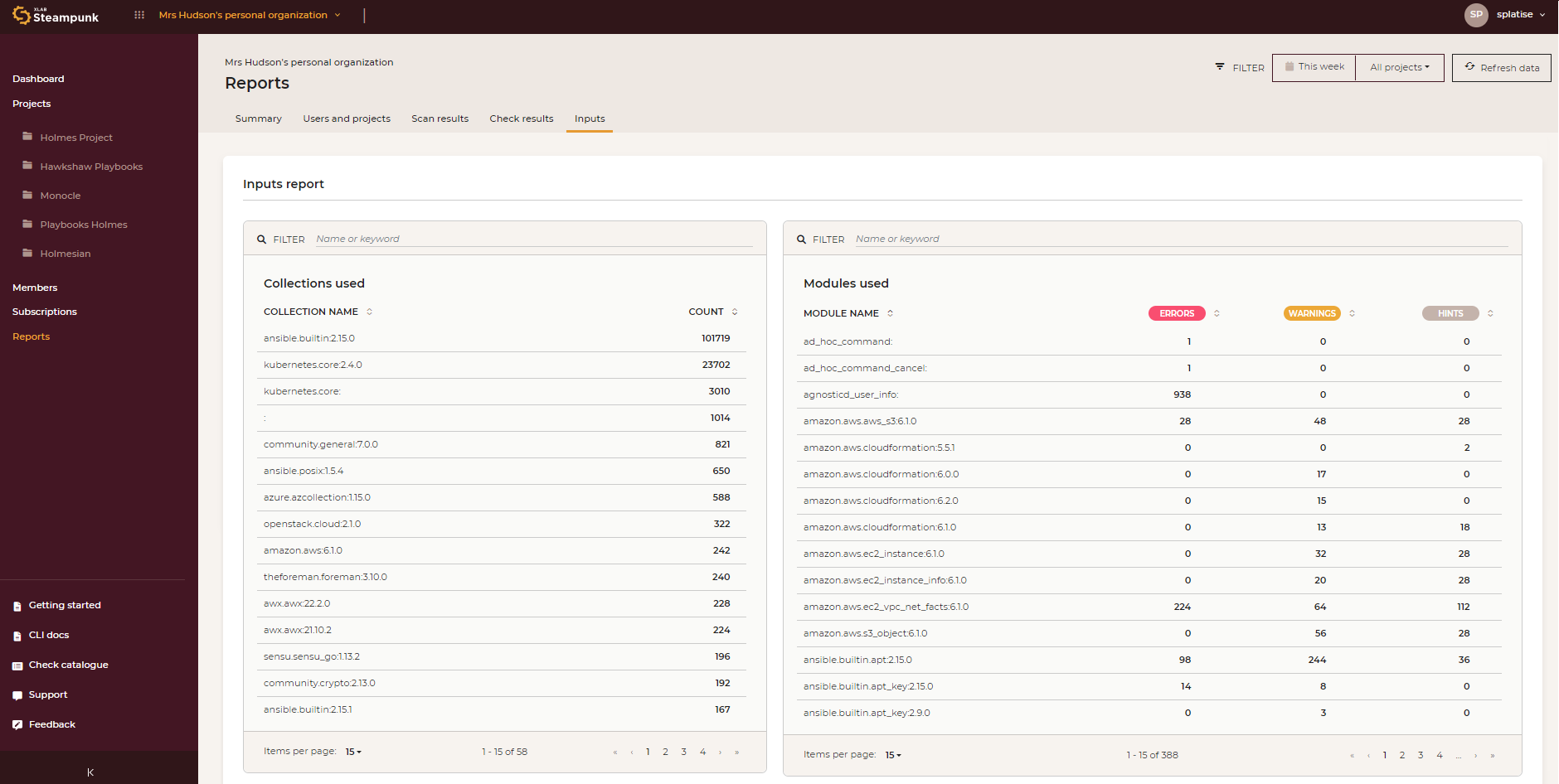 Collaborative efficiency at your fingertips
Collaboration fuels innovation, and the Steampunk Spotter app thrives on this principle. Collaborating within your automation chain becomes effortless with the app as your facilitator. Add users with a simple invitation, granting them access to invaluable insights and fostering collective contributions.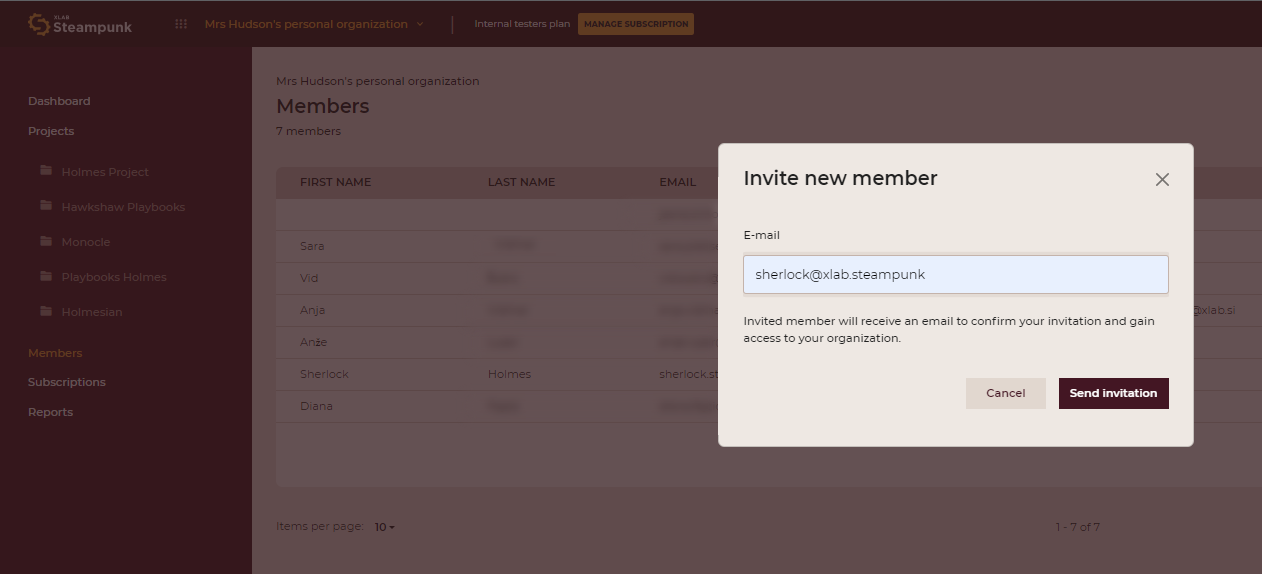 You can effortlessly toggle between organizations as well.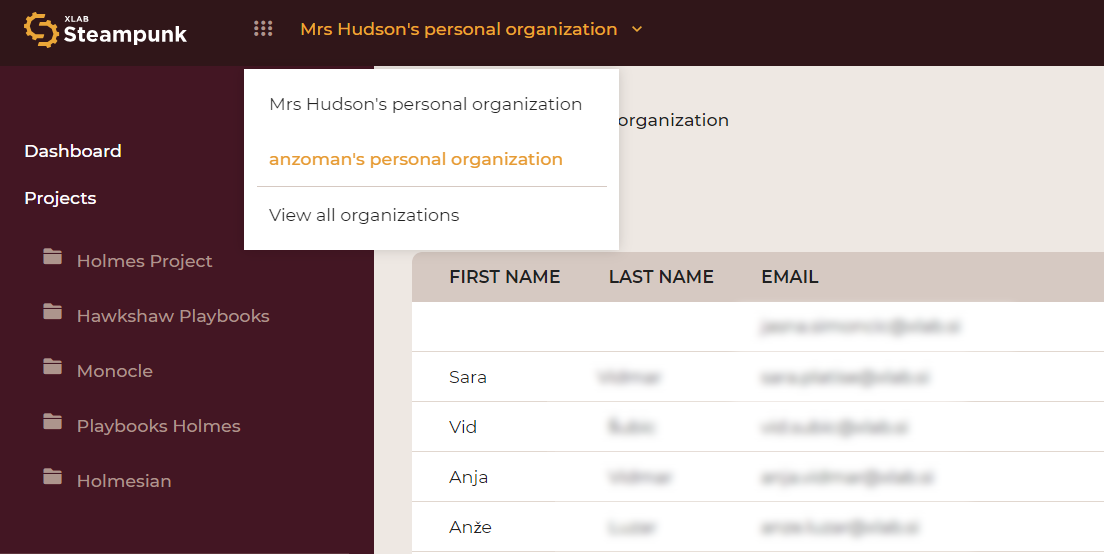 The Reports tab, akin to a command center for teamwork, offers granular analytics on user and project activities. Gain real-time insights into active users, ongoing projects, and prevalent challenges.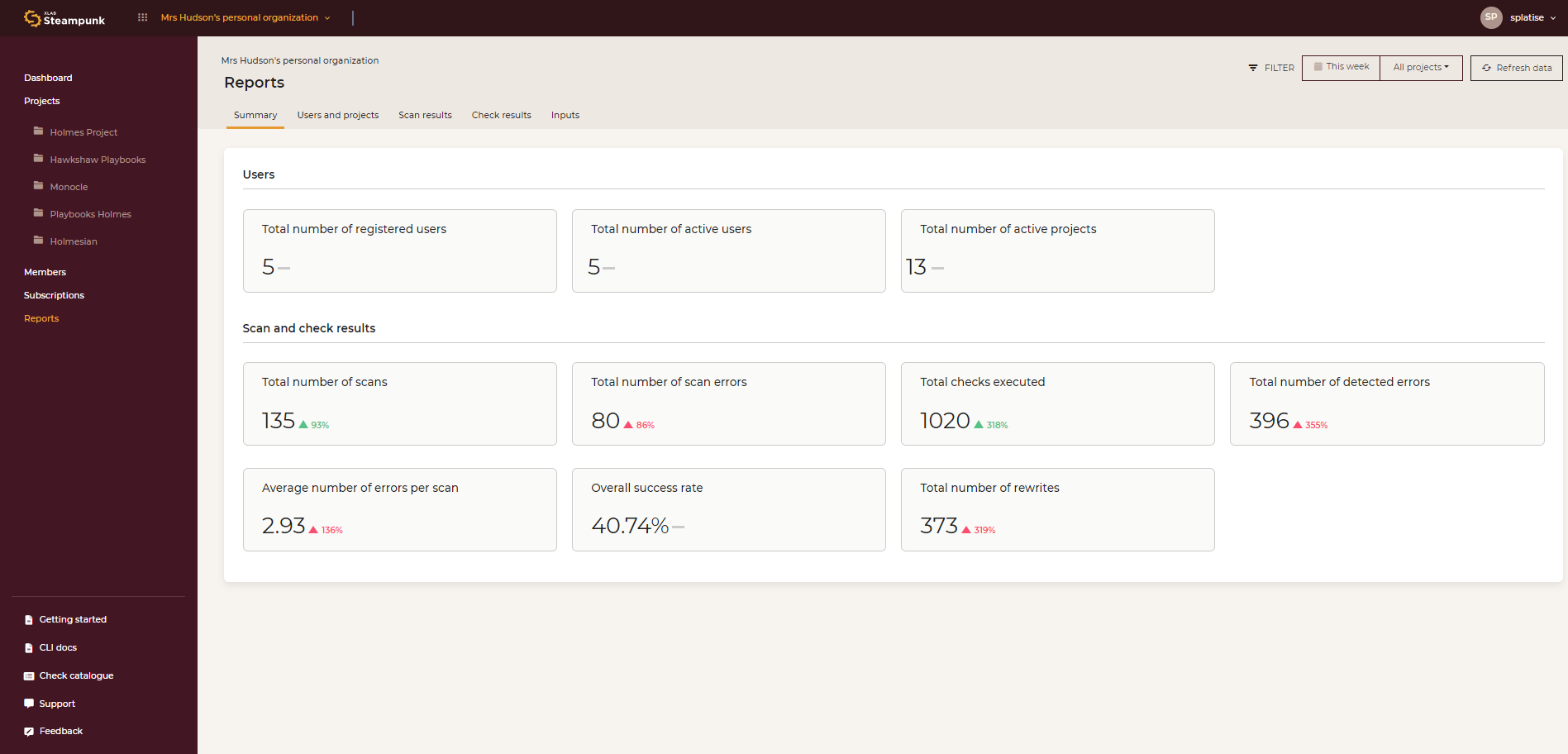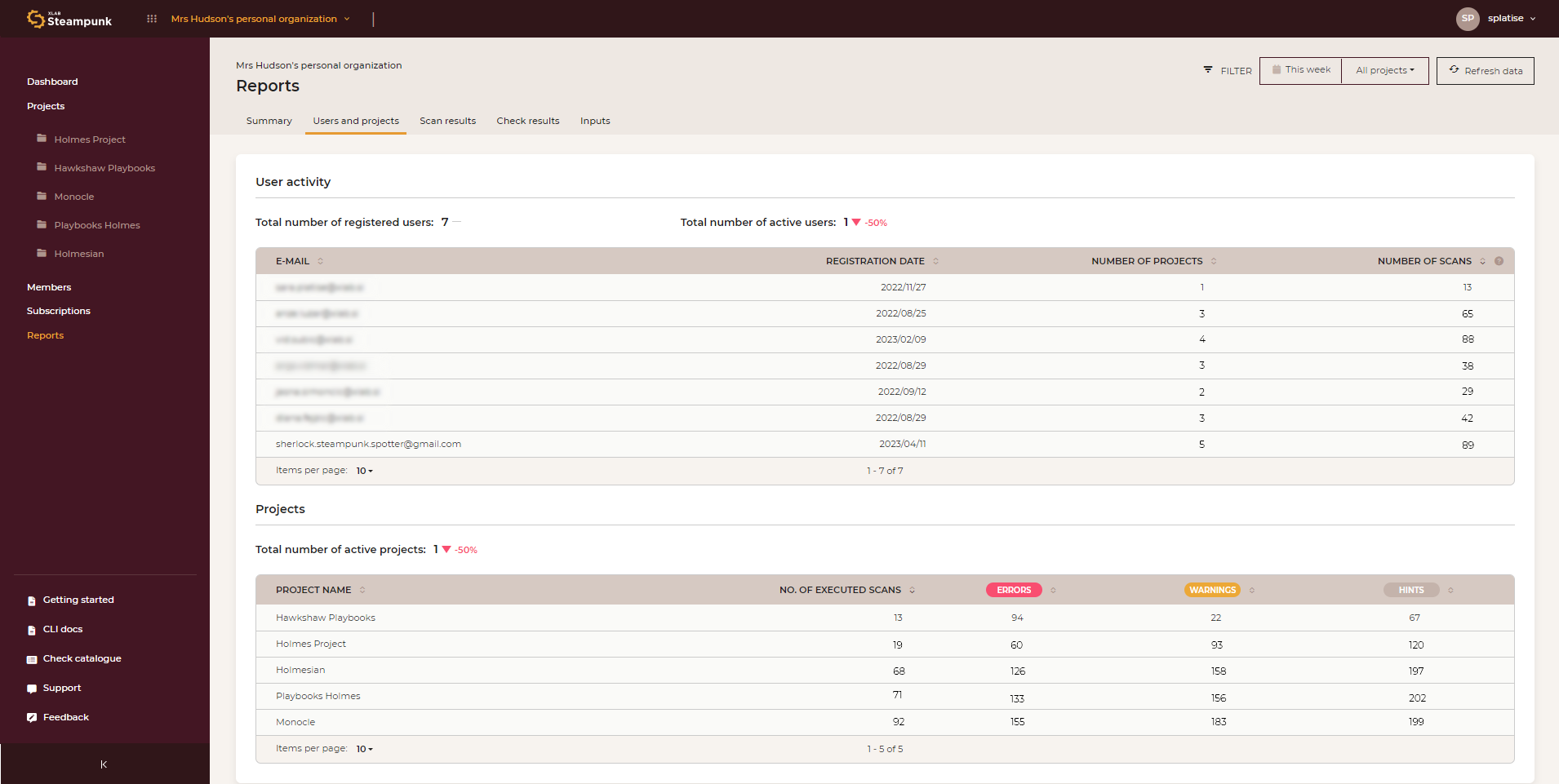 Project management made easy
Strategic project management lies at the core of automation success. The Steampunk Spotter app simplifies this by offering a well-organized approach. While a default project awaits you post-registration, and this is where scan data can be found by default, feel free to create new projects that cater to specific needs.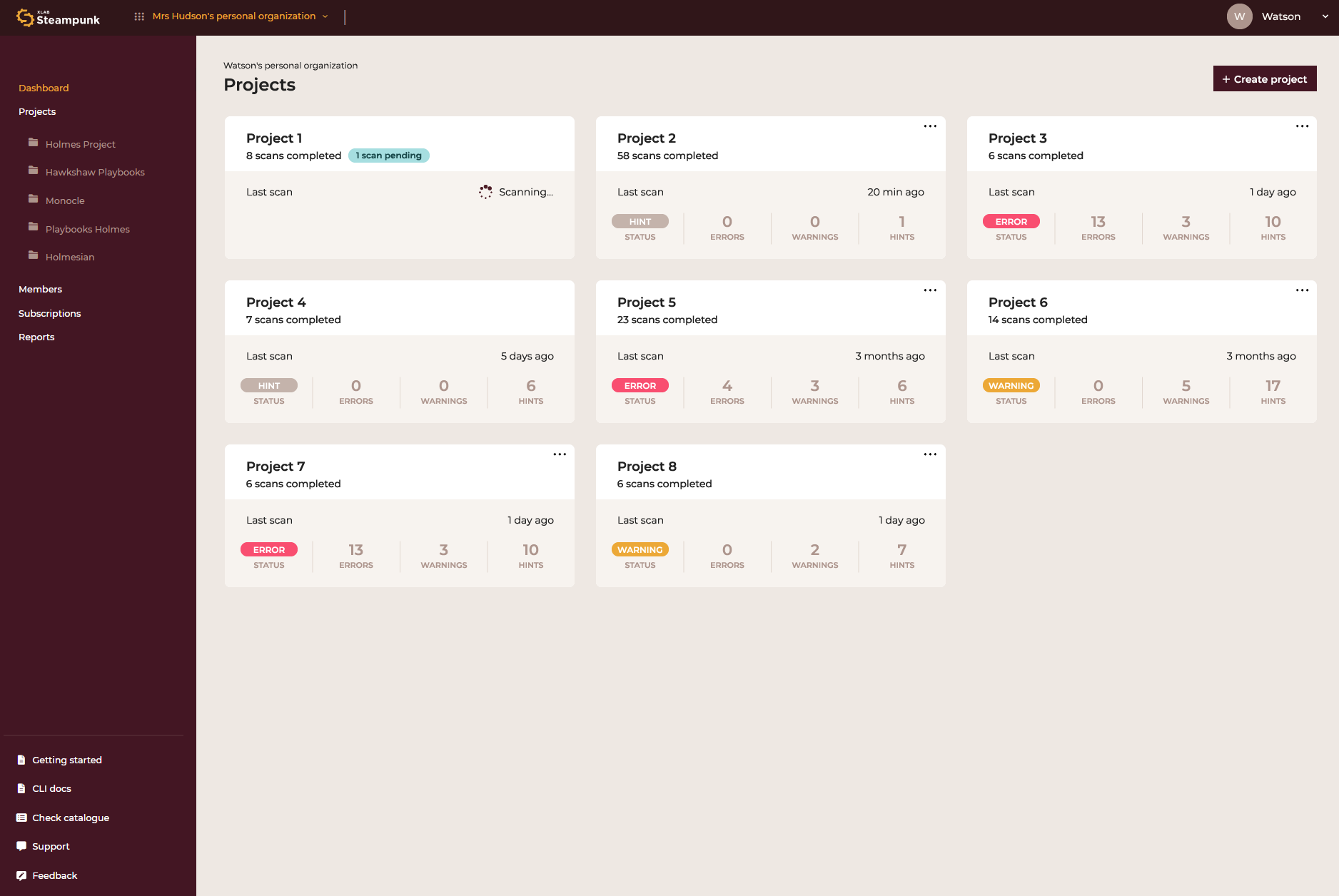 While creating new projects, you also have the option to create a new project by using a public git repository URL. Imagine seamlessly assessing the quality of your playbooks stored in a public Git repository with just a link paste. The scan starts automatically and can always be rerun.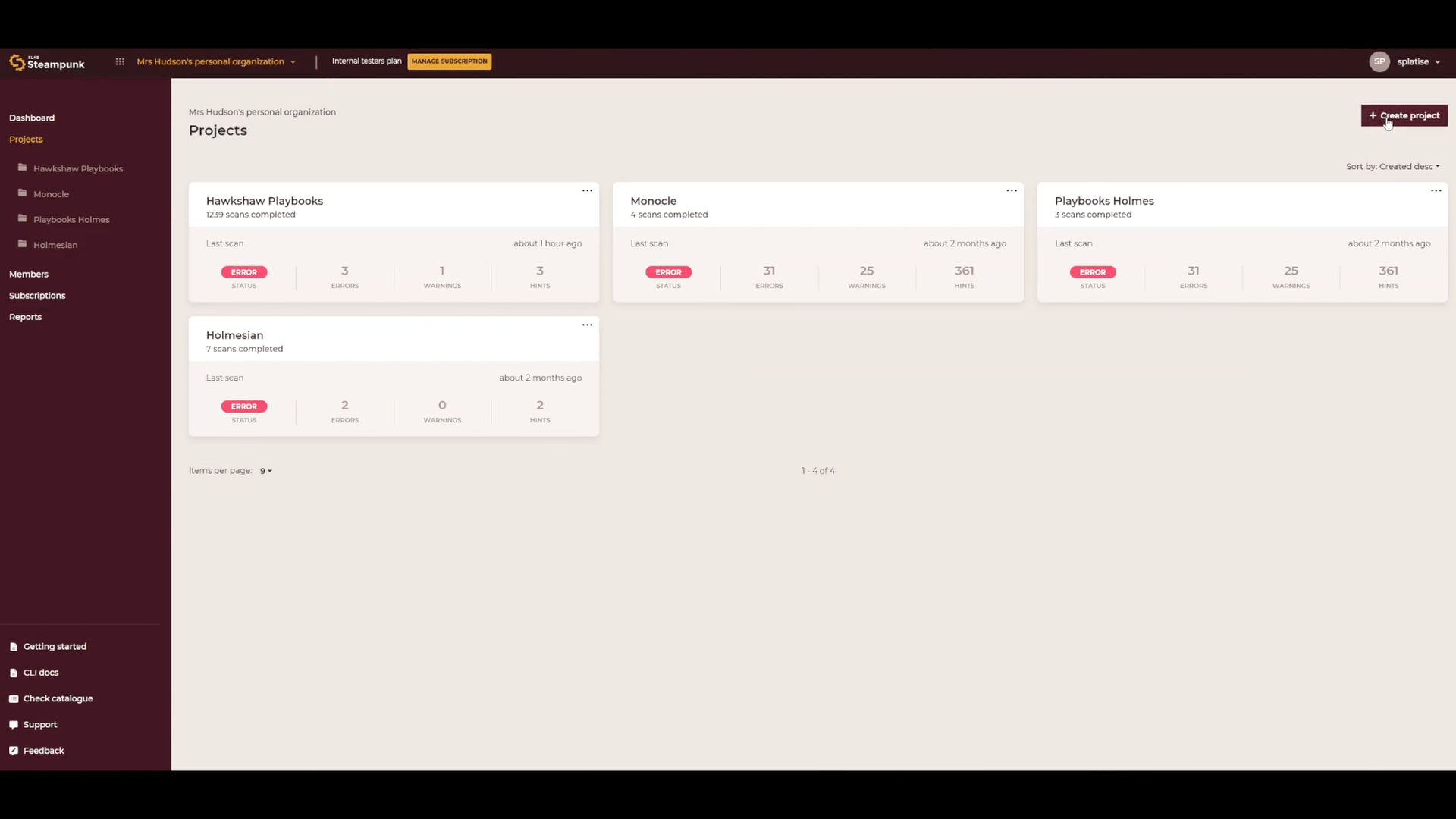 Enhanced organization comes effortlessly as users can copy project IDs for streamlined access during scans. Use spotter scan --project-id <your ID> playbook.yml in your console. This feature keeps your Ansible content scans tidy, ensuring easy retrieval and management. It works just the same for GitHub and GitLab integrations, while in VS Code's extension, you can simply copy it into the settings. The ID can be found in every project:

Embrace collaboration to speed up your automation
Collaboration, efficiency, and precision are the hallmarks of the Steampunk Spotter app. It's more than a tool; it's a catalyst for strategic teamwork. Inviting users to your organization creates an ecosystem where teams from diverse corners of the automation chain unite. Understanding the intricacies of automation fosters optimal results, enabling you to focus on realizing your goals.
The Steampunk Spotter app helps you commit to your automation journey. Experience firsthand how it accelerates your automation processes and bridges the knowledge gap among collaborating teams. Don't just take our word for it, immerse yourself in the experience. We're confident that you will love the Steampunk Spotter app, just like we do.
Discover the future of automation with Steampunk Spotter, your pathway to optimized, collaborative, and reliable automation. Try it out!