Our XLAB Steampunk team, a leading expert in IT automation with Ansible, proudly announces the release of Steampunk Spotter 3.0., a powerful toolkit that can help businesses improve the reliability, efficiency, and security of automation. Addressing the needs of modern enterprises, Steampunk Spotter 3.0 introduces Ansible Playbook Platform, set to transform how businesses of all sizes optimize their automation.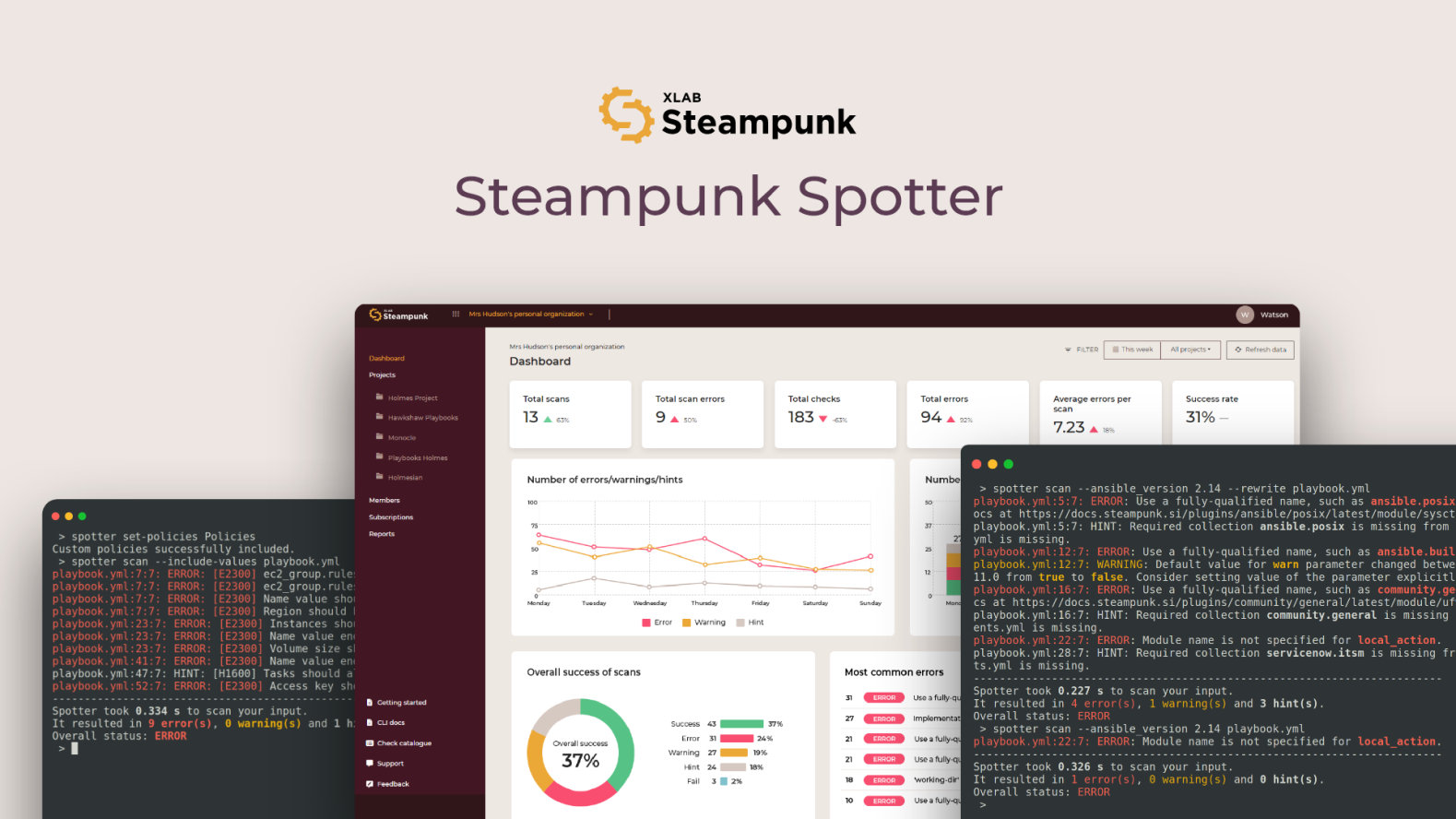 Steampunk Spotter helps businesses automate their IT infrastructure with Ansible by reducing risk, increasing efficiency, and improving compliance. It addresses the challenges of managing large Ansible environments by offering fast and reliable playbook writing, visibility into IT automation processes, and assurance of secure and always up-to-date playbooks.
This advanced Ansible Playbook management platform is packed with variety of features that make it easy to manage playbooks at scale and enhance quality, maintainability and security of automation.
Key features of Steampunk Spotter 3.0
Scalability: Engineered to meet the demands of even the largest organizations, Steampunk Spotter 3.0 effortlessly manages increased workloads and extensive volumes of Ansible Playbooks, maintaining peak performance.
Enhanced Security: Flexible deployment options, including on-premises, grant businesses complete control over data, security, and allocated resources, enabling compliance with industry regulations while optimizing performance and cost savings.
Customization: The latest version offers extensive customization options, including custom rules, rule skipping and enforcement, and scanning profiles, empowering businesses to tailor Spotter to their unique requirements.
Enterprise Support: XLAB Steampunk provides enterprise-level support, ensuring businesses receive prompt assistance and guidance whenever needed.
Ease of Use: Steampunk Spotter is designed for user-friendliness, ensuring employees can quickly and efficiently adopt the software.
Steampunk Spotter Ansible Playbook Platform
The Ansible Playbook Platform provides a robust solution for businesses seeking enhanced control, performance, and security in their automation workflows.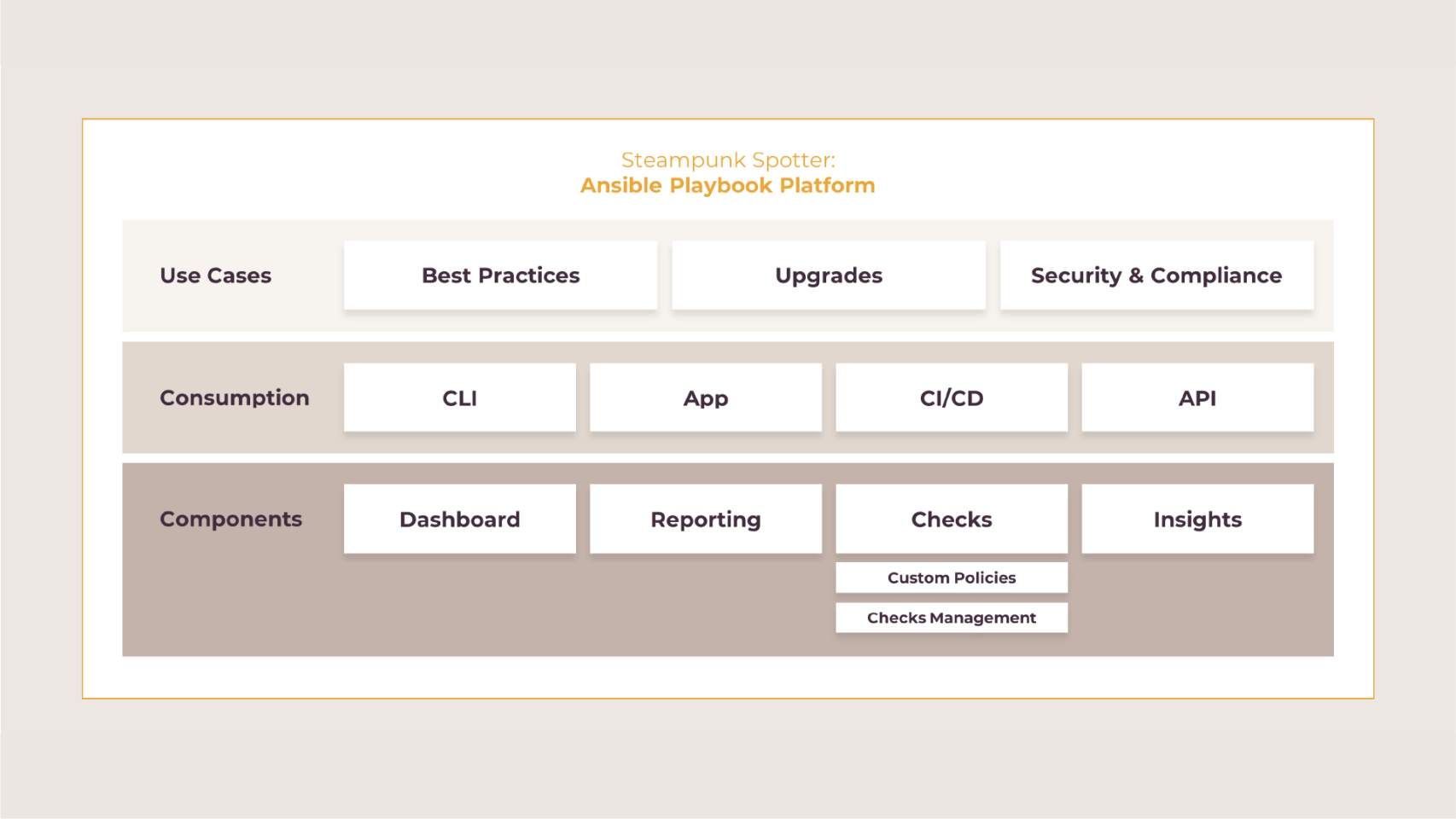 Dashboard provides a centralized view of playbook statistics, health, and recommended actions, enabling users to monitor and manage their playbooks' performance, security, and compliance statuses.
Reporting generates comprehensive reports on playbook conditions, providing insights into potential improvements and highlighting critical issues that need attention.
Spotter ensures playbook adherence to best practices, security, and compliance through a combination of pre-built and customizable Checks. Users can define Custom policies for specific requirements, and the Checks management feature allows tailored analysis, aligning with the company's definitions.
Insights dives deeper into playbook data, offering advanced analytics that guide decision-making processes and help teams understand the impact of their playbooks on their automation environment.
"Steampunk Spotter has been instrumental in transforming our automation process. It helps identify and mitigate potential issues before execution, resulting in fewer errors and higher productivity. Spotter is more than just a tool — it's a catalyst for evolving the way we manage and perceive automation." - Miguel Esteban, CEO, Computer Space
Ready to transform your automation processes?
Are you ready to elevate your Ansible Playbook scanning and transform your automation processes? If you want to learn more about Steampunk Spotter, you can visit official website or request a demo. Steampunk Spotter 3.0 is your key to unlocking the full potential of Ansible automation in the modern enterprise. What are you waiting for?