As a boat owner you have a lot to worry about. During cruises you worry about engine operation and all the emergencies that could occur and leave you adrift miles from the nearest marine. And in the evening you feel anxious leaving your boat unattended at anchor, taking a stroll along the waterfront, or sharing a meal at a local restaurant with your friends. Now you can leave all these worries to our new Sentinel system, which keeps and eye on your boat at all times and warns you about any situation before it turns into an emergency.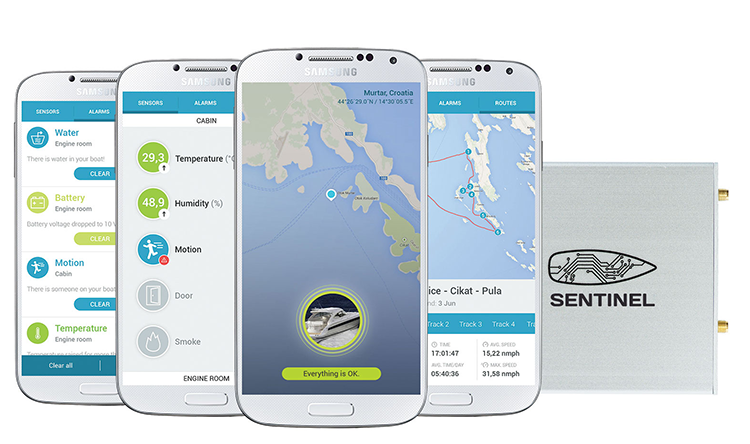 A low or dead battery, a burst hose and as a result an ignition key that won't start or the boat filling up with water – Sentinel will detect the problems before they start. By monitoring your boat and sending alerts in case of sudden change in temperature or battery voltage, bilge pump working overdrive or unwanted intruders.
"Sentinel was designed for a simple reason – to give boat owners a peace of mind when they are away from the boat," says Gregor Pipan, who turned an idea into a successful venture. Together with a team of software and hardware developers with expertise in the field of sensors and Internet of Things and building on security and dependability of their systems, they created the solution that helps boat owners avoid some costly problems.
The Sentinel kit covers your every need. It includes the bilge pump sensor, door and PIR motion sensor, NMEA engine interface, GPS and more. You can install the whole system by yourself or with the help from the local marine electrician. When the sensors are placed round your boat, activate your device via iOS, Android, Windows phone app or web interface.
Once setup, the sensors will start monitoring your boat and the Sentinel mobile application will give you real-time access to sensor data and any outstanding situations that might occur – intrusion alarm, anchor alarm – allowing you to enjoy holidays knowing that your boat is in good hands.
More information about Sentinel is to be presented at the Marine Equipment trade Show METS 2014 in Amsterdam, 18-20 November (Hall 5, Stand 438).
Also, you can simply contact the Sentinel team at: www.sentinel.hr