In March 2015 the first business acceleration city will be set up in Ljubljana, Slovenia, to foster innovation and entrepreneurship in SE Europe. Young companies entering the accelerator program will be given an opportunity to grow and reach global markets. XLAB joins the wide network of founders and partners, convinced that the groundbreaking concept will establish Slovenia as an innovative and technologically apt country, not only EU-wide but globally.
The aim of the Acceleration Business City ABC is to accelerate 8-10 startups with finalized products and services into markets where they have an opportunity to grow and succeed. According to Dejan Roljič, CEO at ABC Accelerator, the key characteristic that sets it apart from other business models is a combination of a testing site (the BTC City shopping center) and an innovation center (IBM's technological infrastructure). 
XLAB, which has been running its own internal incubator and accelerator since 2012, is looking forward to sharing expertise and mentoring the first two accelerator programs, which will be from fields of Smart Cities, health and wearable technologies. 
Acceleration Business City will kick off with its first program on 30th March 2015.
More information available at: https://www.abc-accelerator.com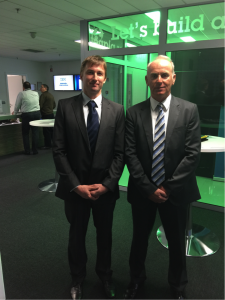 Gregor Pipan (XLAB) and Jože Mermal (BTC City) are confident that the Business Accelerator will help write the next success story of the Slovene economy.